International use of the CECPAQ
Since  publication of the CECPAQ in 2017, international interest in the questionnaire is growing. Researchers from various countries asked permission to use the CECPAQ in their studies and have translated-or are in the process of translating- the questionniare into different languages, including Chinese, Spanish (USA), Persian (Iran), Turkish, Hungarian, Italian, and Slovenian. Forward- and backward translation is being used. Once  more is known about the psychometric propertie, the translated versions of the CECPAQ will be available for other researchers to use.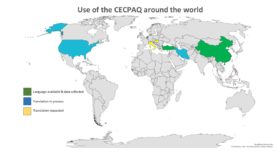 If you are interested in translating the CECPAQ, please contact us

.